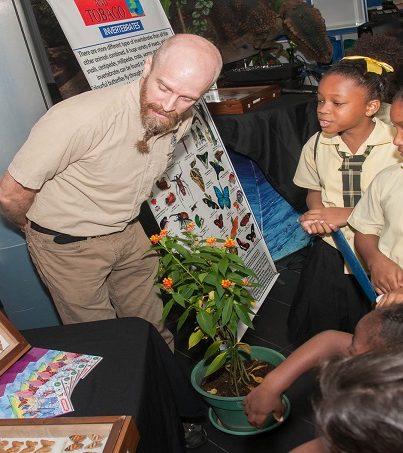 DIGICEL IMAX LAUNCHES FLIGHT OF THE BUTTERFLIES 3D UNDER THE ATLANTIC ULTIMATE FIELD TRIP
Published on : Sunday, November 26th, 2017 Categories : Investor News
Written By: Kristina Celestine, Marketing Executive
Digicel IMAX successfully launched the latest IMAX® 3D Documentary Adventure, Flight of The Butterflies on Wednesday 11th October 2017. Flight of the butterflies follow the captivating story of Dana (Danaus Plexippus) and her descendants as they make the perilous return journey from Mexico to Canada. Hailed as one of the greatest discoveries in nature, Flight of the butterflies will take audiences alongside millions of migrating monarch butterflies weathering winter and unravelling one scientist's 40-year search.
Flight of the Butterflies will now be added to the slate of movies available on the Atlantic Ultimate Field trip. This documentary promises to inform students of all ages and has more than 20 key science educational areas for teachers to explore and expand upon before and after their students see the film. The film has a run time of 40 minutes and will be shown on the week days at 10:00 am and 11:00 am.
Book a school trip now to Digicel IMAX to see this amazing documentary or see any of our other remarkable educational films including; Secret Ocean and our local short film features: Green & Yellow, Quiet Resolution, Sally's Way and A Better Place. Atlantic, the official education sponsor, through its partnership with Digicel IMAX is making this unique learning vehicle accessible to all students regardless of their financial situation or location. For more info call 297-0205 or email us at edu@imax.tt. Visit our website at www.cinemaonett.com for details on these movies.