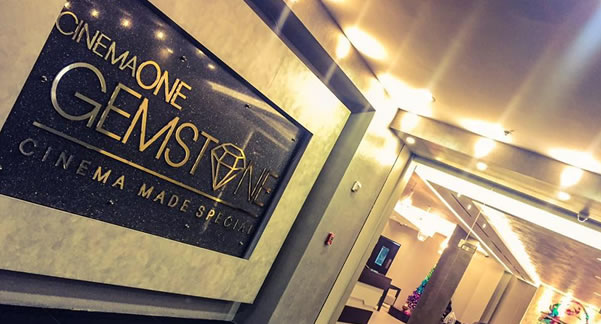 The Company that brought you the best in 3D technology Digicel IMAX, opens the doors of the country's first luxury dine-in four screen Cineplex – Gemstone Luxury Cinemas.
Located on the 2nd floor of the entertainment building at One Woodbrook Place Gemstone's intimate gem themed movie theatre rooms- Amethyst, Emerald, Azure, Topaz are fully equipped to offer seat side service- "Cinema Made Special".
As you walk through our jeweled doors and relax in our motorized 180 degree recliner seats, our Gemstone team of hospitality trained attendants are waiting to serve you at a touch of a button. Our menu offers traditional movie fare but you can also enjoy our small plates and popular entrees with your choice of alcoholic and non-alcoholic beverages specially prepared by our resident bartender. All this whilst being entertained by the best of local and Hollywood movies. Our quality rooms can also be rented for special occasions and for corporate events.
Visit the Foods and Events tab for more information on how you can book one of our luxury rooms for your special occasions and corporate events.
We encourage guests to arrive 30 minutes before the scheduled show time to place your orders.
Need more information or want give us feedback? Send us your message here: