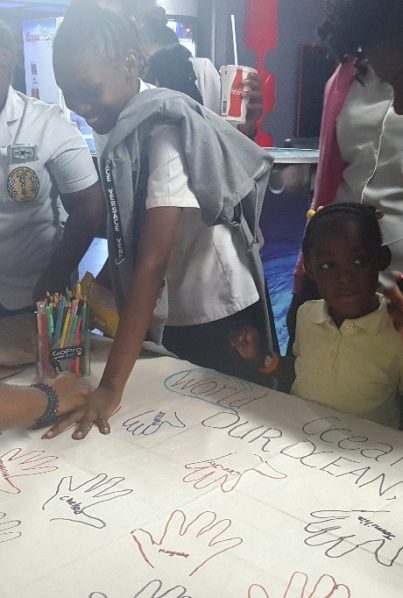 KIDS MAKE PLEDGE ON OCEANS DAY AT DIGICEL IMAX
Published on : Sunday, November 26th, 2017 Categories : Investor News
Written By: Kristina Celestine, Marketing Executive
About 150 school children attending the Atlantic Ultimate Field Trip at Digicel IMAX make pledges to protect and conserve the ocean in commemoration of World Oceans Day on Thursday 8th June 2017.
Under the overall theme for this year; 'Our Oceans, Our Future', World Ocean Day is a global day of ocean celebration and collaboration for a better future.
Kids participating in the Atlantic Ultimate Field Trip on that day were treated to a special presentation on ocean conservation by founder of Coexistence Expeditions, Ms. Leah Fouchong along with being enlightened by a popular IMAX documentary; Jean-Michael Cousteau's Secret Ocean. An under oceanic adventure that explores the ocean's food chain from phytoplankton to the largest animals, filmed and shown using IMAX technology.
For further information on the Atlantic Ultimate Field Trip contact Kristina Celestine, Marketing Executive at Digicel IMAX – marketing.executive@imax.tt .