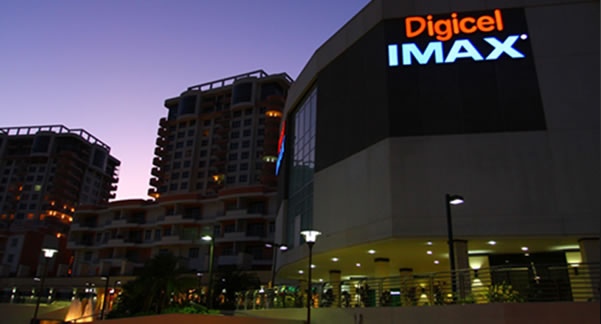 CinemaONE IMAX Theatre is located at One Woodbrook Place and is the first IMAX cinema in the Caribbean.
The CinemaONE IMAX cinema screens Hollywood blockbusters that have been digital re-mastered with the IMAX technology, specifically for presentation in IMAX's giant screen format; IMAX, IMAX 3D & IMAX DMR technology.
IMAX DMR is the Company's ground breaking digital re-mastering technology that allows it to digitally transform virtually any conventional motion picture into the unparalleled image and sound quality of The IMAX Experience®. The IMAX brand is recognized throughout the world for extraordinary and immersive entertainment experiences for consumers.
The worldwide IMAX network is among the most important and successful theatrical distribution platforms for major event Hollywood films around the globe.
CinemaONE IMAX facilities include:
• 364 seating capacity
• 230 lobby capacity (standing)
• 524 car park lots
• Parking wardens and ushers
• Access: escalator and elevator
• Concession—stand and Bar
Frequently Asked Questions
• Why Experience it in IMAX®?
IMAX® is the world's most immersive experience! – Crystal-Clean Images, Laser-Aligned Digital Sound, Immersive Theatre Geometry.
• What is the difference between Hollywood 2D/3D/IMAX Classic?
Hollywood 2D – are Hollywood films shown in 2D, Hollywood 3D – are Hollywood films shown in 3D, you will be given 3D glasses on entering the cinema. IMAX Classic films – are 45 min. educational documentaries all shown in 3D.
• Do you show movies that are not in the IMAX format?
Sometimes, we show movies that are not in the IMAX format, however the IMAXR, IMAX 3DR, movies take precedence.
• How do I get to the Theatre?
From Tragarete Road continue untill Roxy Roundabout, turn left on Damian Street.
• Where do I park?
Parking is located at the basement level at One Woodbrook Place. The entrance is located on Damian Street.
• I would like to book my school for a field trip, what is the procedure?
Click on the 'AUFT' tab and download the application form on the page. Print and complete the application form and e-mail it to [email protected] to confirm your booking.
• I would like to have a private event at the Digicel IMAX, what is the procedure?
Please e-mail us at [email protected] with all your details and someone from the Digicel IMAX team will e-mail you with all the details.
Need more information or want give us feedback? Send us your message here: